Barbara Carrasco has clear memories of when the troubles started. It was 1981. She remembers a sketch of her mural on a wall in an office in Los Angeles. In the drawing, some images were circled in purple, some in red. The commissioners of the mural wanted the purple parts to be smaller. "And the red circles were definitively to be eliminated," Carrasco says. "One of them was one of the Japanese-American internment."
That incident is part of a new exhibition opening September 23 at LA Plaza de Cultura y Artes, in Los Angeles, which tells the story of eight murals made by Chicano artists in Southern California that were challenged, censored, whitewashed, and even destroyed.
Carrasco's mural was—and is, since she managed to take control of it and save it—an epic piece. It consists of more than 40 panels that, combined, measure 20 feet high and 80 feet long. On them, you can see a woman with long strands of hair. Woven through her hair are 51 images depicting the history of Los Angeles. Scenes include the native tribes that lived in the area first; there's Biddy Mason, the last slave of the city; there's Dodger Stadium and the houses that were destroyed to build it; and there's the Japanese-Americans that suffered internment during World War II.

"I couldn't believe it," Carrasco says about the realization that the Community Redevelopment Agency of Los Angeles wanted to censor her work. "I was a little shocked that they would do that. I said, 'That's not my history. This is our history.'" She had no intentions of deleting anything. They told her to get a lawyer.
"We found in our research that it is very common for murals to come under threat," Erin Curtis explains. She is the curator of the exhibit, named Murales Rebeldes, which is part of a massive art event happening in the city called Pacific Standard Time: LA/LA. This event will gather different expressions of Latino and Latino American art from September 2017 to January 2018. "This threat not always happens in the ways that you would expect. There are also much less overt ways in which murals can become imperiled." Sometimes it's direct censorship, whitewashing, or destruction. Other times, it's a lack of resources for maintenance and preservation.
In the case of Carrasco's mural, she managed to retain the ownership of the piece, which is currently saved in a storage facility in Pasadena. After years of gathering dust, it will be reassembled and put on display at Union Station, in Los Angeles, from September 29 through October 22. But this is the only fully surviving mural of the exhibit.
David Botello saw his mural reduced into rubble in 1988, eight years after he, Wayne Alaniz Healy and George Yepes painted it on a wall of a new gas station in Boyle Heights. "There was no warning. Everybody was shocked," Botello says. On the piece, they tried to talk to the youth of the high school nearby, showing how different ethnicities share a common spirit that comes from the earth. Images of people in cars mixed up with machinery from the oil industry, Mayan iconography, and dinosaurs. It was called "Filling up in Ancient Energies." But a new owner bought the land and decided to tear the wall down.
"This is very difficult for everyone of us [the muralists]," Botello explains. "Many of these pieces are underpriced, done for nothing, and still the artist did a work of love, and in many cases a lot of hard work. Sometimes you hustle just to get a ladder. The painting is hard to come by. Myself and my partners, we had our regular jobs and we did this work at weekends and in the nights."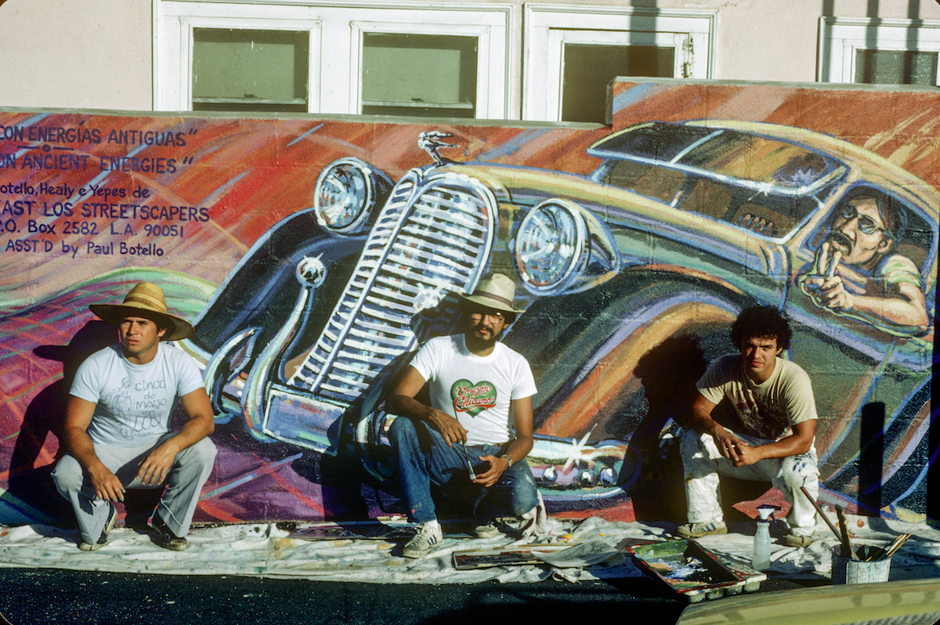 When the new owner started destroying the mural, a local teacher phoned Botello. He managed to arrive on time to take some of the remains. He kept the rubble and surviving parts of it until now. He's given them to the exhibit, which uses creative ways to explain the missing murals: photos, sketches, documents, models, little pieces and remains of what's left of these forgotten but very relevant pieces of art. Curtis says that one of the objectives is precisely, through this destroyed murals, to show the relevance of this kind of art and, through it, the stories of the Latino and Chicano community.
"These murals talk about the troubles experienced by Mexican and Mexican-American communities in Los Angeles, and they talk about a different history, because this community wasn't been recognized by dominant society at the time," Curtis says. These stories haven't been told but on the walls of Los Angeles. "And they also respond to community concerns in different ways. They do a very good job of articulating concerns of Chicanos in Mexican and Mexican-American communities."
A clear example of this was Sergio O'Cadiz's mural painted on the Colonia Juárez neighborhood, in Fountain Valley. The mural was destroyed in 2001, but it experienced many problems from its inception. "He painted a depiction of two policemen dragging a Chicano youth," Curtis says. "There was a very negative response from the city's police to this piece." Before he was even done, that particular image was attacked with white paint. But, instead of cleaning it or repainting it, the artist decided to leave it like it was, as evidence of the controversy.
Sadly, the artists see this as a still-lingering issue. "If you are a muralist in Los Angeles, you've most likely had a mural that has either been vandalized, neglected or lost in some other way," says Yreina Cervantez, another artist included in the exhibit. "Part of this has to do with the fact that murals, particularly in L.A., have never really been given the same value of, for example, what is considered high art."
Cervantez's "La historia de adentro/La historia de afuera" is the most recent piece in Murales Rebeldes. She painted it in 1995 with Alma López and, as with Barbara Carrasco's mural, it also tried to tell the history of communities that aren't normally heard. In the traditionally white city of Huntington Beach, they tried to show that there was more than what's represented by historians and leaders, portraying different people of minority communities of the area. They researched for weeks (Carrasco did the same for her murals) and talked to representatives of the community.
But in 2008, the leadership of the local art center contacted Cervantez to explain that the mural had been graffitied. Like with many murals, it had fallen in disrepair and there wasn't much interest in maintaining or cleaning it.
"I offered to have it restored for a very, very modest sum," Cervantez remembers. "I could have found some funding sources. But, after a while it was just not an option."
Finally, it was painted over. This is the other goal of this exhibit: to raise awareness of the need to take care of these murals. "Our goal for this exhibition at La Plaza is to raise awareness of how easy it is for murals to become imperiled and to serve as a site for dialogue and a site for inspiration about what is happening with murals, about the ideas that murals present that are still present today," Erin Curtis says.
And, for the artist, the current political times in the United States necessitate this. "Murals  have always said things that people didn't want to hear," Yreina Cervantez adds. "I really hope that it won't be so difficult for younger generations of muralists, like it was for us."