There's no shortage of conflicting priorities between the federal and city governments, ranging from the life-threatening to the seriously wonky. Tax subsidies for parking are decidedly in the latter category, but they really do have a big impact on urban life.
A new report from TransitCenter lends some statistics to show just how big that impact really is: Commuter benefits programs (also known as tax subsidies) for drivers—or rather, parkers—cost the U.S. $7.3 billion each year, add about 820,000 commuters to the road, and result in an extra 4.6 billion miles driven annually.
The effect is most pronounced in central business districts, where even a small increase in cars at peak times can lead to severe congestion. And because parking tends to be most expensive in these downtowns, where there are high concentrations of high-income jobs, wealthier people naturally stand to get the most value from these programs.
"There's no logic in paying people to drive to work in the most congested downtowns, at the most congested times of the day," says Steven Higashide, an author of the report.
Indeed, the commuter parking benefit is even at odds with the federal government's stated goals for transportation and smart growth: they significantly increase traffic and pollution, and encourage valuable urban land to be used for cars. And while some cities and states have their own transit benefits programs that provide subsidies for commuting patterns other than solo driving, they're far smaller, totaling just $1.3 billion in annual subsidies.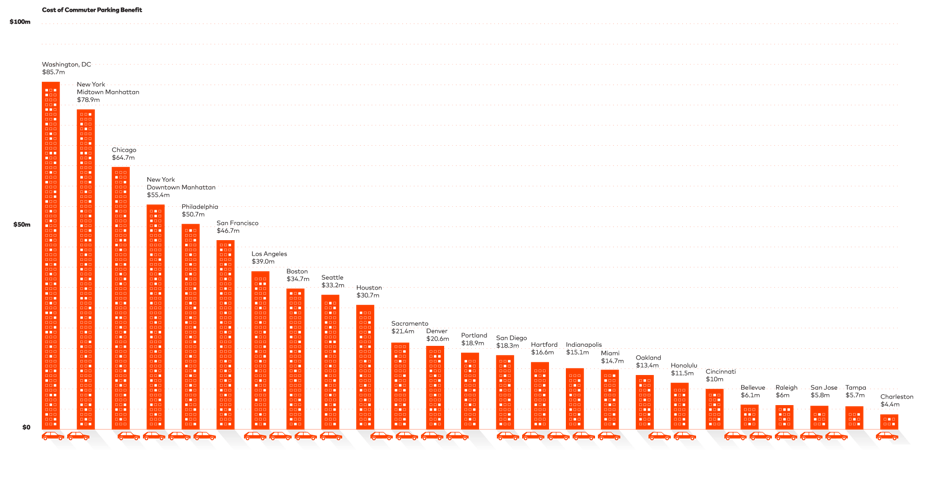 Taking all that into consideration, TransitCenter wants to find another way. There are in fact plenty of tools at cities' disposal to make commuter benefits more sustainable. A few pioneering cities have already taken matters into their own hands, extending benefits to other forms of transportation, creating municipal taxes on parking, and mandating that new developments have amenities that encourage multimodal lifestyles.
The upshot is that incentives can go both ways. Academic studies and innovative transit benefits programs have demonstrated that people are much more likely to switch to alternative modes of transportation if they're encouraged to do so. After San Francisco revised its commuter benefits program to focus on public transit, 44,000 commuters adopted greener modes of transportation, preventing 86 million vehicle-miles traveled.
A study of large Northeastern U.S. cities by Virginia Tech researcher Andrea Hamre demonstrated the extent to which incentives can affect individuals' travel behaviors. The survey asked how subsidies for cars, transit, or no subsidies at all would affect how respondents get to work. The differences were striking: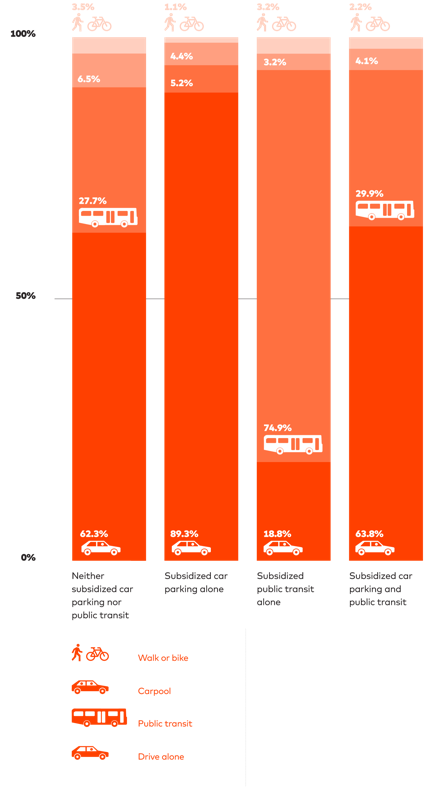 In addition to these carrots, sticks can be effective, too. Cities have the power to impose extra taxes on commercial parking facilities, and many already do. New York City taxes parking at 18.4 percent, Philadelphia and Chicago at 20 percent, and San Francisco at 25 percent. In some cities, such as San Francisco and Boulder, the vast majority of the revenue generated from parking goes toward transit improvements, thus redressing some of the negative impacts of driving. In Nottingham, England, similar parking taxes helped fund the construction of two new tram lines.  
In the U.S., however, parking benefits have such a large financial impact that cities would need to tax parking facilities at a rate of 54 percent to counteract them, TransitCenter calculated.
In light of these bad policies, cities are going to have to get innovative. But for a first step, other cities can follow the lead of New York, San Francisco, and Washington, D.C., which require all large employers to provide transit benefits in addition to parking benefits. Cities can try to offset the parking benefits by increasing taxes and fees on parking. Additionally, the report suggests broadening the criteria for transit benefits to include bike share and other recent transportation innovations.
"It's really a time for local leaders to step up," Higashide says. While parking subsidies might seem to be a mundane issue compared to the other political battles in Washington, D.C, this is one in which local governments have a certain degree of control.