Under a low moon, three dozen cyclists filed through one of the hipper neighborhoods of Beirut. The bars lining the street were filling with the Thursday-night crowd, who gawped as the bikers rolled by in oversized neon-yellow vests. Some cyclists wove skillfully between parked cars; others wobbled precariously. Drivers rolled down their windows to shout questions at the unlikely peloton. "What's happening? Where are you going?"
Beirut isn't used to bicycles. Thanks to its aggressive drivers, pockmarked pavement, buzzing scooters, and a general disregard for rules of the road, cycling around the Lebanese capital requires the focus and agility of a martial-arts master.
But luckily for the Thursday-night cyclists—especially those logging their first-ever minutes on a bike saddle as adults—a crew of confident stewards protected the group like wolves herding their young. The marshals were volunteers with Cycling Circle, an organization that promotes biking in Lebanon and puts on regular group rides around the country, like this weekly night ride. As the pack entered an enormous traffic circle tucked underneath an overpass, the guides fanned out to block every entrance, and the fluorescent bikers rolled through an empty roundabout to the music of confused honking.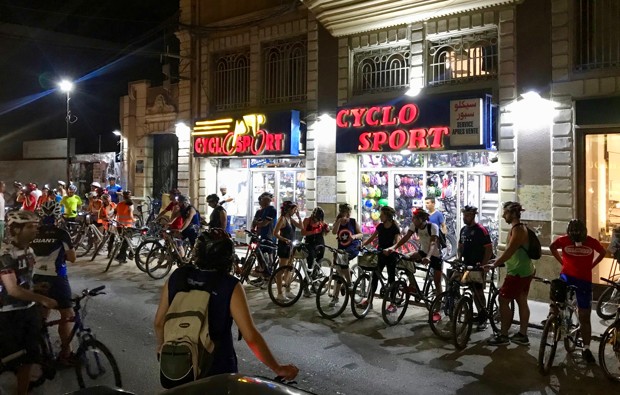 Beirut is full of car-centric infrastructure like this traffic circle: wide urban highways, insane spaghetti-bowl interchanges, and, of course, a near-complete lack of bicycle infrastructure. Many of these features are the product of reconstruction projects that came after the 15-year Lebanese Civil War that destroyed large swaths of the city, divided it by sectarian allegiance, and took between 150,000 and 200,000 lives.
Even before the conflict erupted in 1975, private cars had begun taking over Beirut's streets and highways. First, the city's tramways were shut down in the 1960s to make room for more automobiles. Then, during the war, Lebanon's landmark rail system went silent, and its bus systems deteriorated. Car-centric projects planned before the war were implemented afterwards, "as if nothing happened over 20 years or so," says Mona Fawaz, a professor of urban planning at the American University of Beirut.
Today, public transportation in this densely built city of more than two million (not counting the recent influx of Syrian refugees) is limited to shared taxis and an informal system of unscheduled vans that's used for 11 percent of trips, according to a four-year-old government report. Rush hour is a cacophonous jumble that can turn a 15-minute trip into an hourlong odyssey. Far from ideal cycling conditions.
"Before the civil war in Lebanon, biking used to be for everyone," says Karim Sokhn, the co-founder of Cycling Circle. "The police was on bicycles, the postal service, all the social classes."
After the war, Sohkn says, cycling became the domain of the very rich and the very poor. For Lebanon's many migrant workers and refugees, who now number around 1.5 million and make up nearly a quarter of the small country's population, bikes are a cheap and easy way to get around, and unlike cars, they don't need to be registered with the government.
Now, a growing community of cycling advocates is trying to widen the appeal of biking in this car-choked city. Even a short jaunt around Beirut reveals of the fruits of their work.
Dozens of colorful, bike-themed murals are splashed across normally beige walls around the city. The congested streets host organized group rides, intrepid bike commuters pedaling to work or school, and even an occasional bike messenger with a shaggy beard and a fixie. The very first shoots of bike infrastructure have begun showing themselves on Beirut's crooked streets, too: A skinny bike lane follows a few blocks of a busy road in front of city hall, and a bike-sharing program is in the early stages of deployment.
But there's a split among cycling advocates here. Some are trying to work with the glacial city government, which has long been encumbered by corruption and sectarian politics. Others avoid lobbying entirely and focus instead on just getting as many Beirutis on bikes as possible. The entire community is working toward the same goal, and most are consciously trying to escape Lebanese society's underlying political and religious divisions, but the country's fault lines haunt even this group of progressive civic activists.
Sokhn is part of the group that generally doesn't engage with the government. Much of what this community does is about visibility. He opened a coffee shop in Furn el-Chebbak, a quiet, leafy neighborhood just outside the hubbub of central Beirut, to attract more people into the biking fold. Every time a crew of yellow-vested cyclists turns heads, the thinking goes, urban cycling inches a little closer to normalization.
The pro-bike propaganda scattered across the city in the form of colorful wall art has the same goal. One long mural reads: "If you were on a bike, you'd have gotten home a long time ago." Another says simply: "Beirut is more beautiful by bike."
"The idea is to bring out the cycling community and celebrate it, and show that there are lots of normal people who cycle," says Zeina Hawa, a co-founder of the Chain Effect, the organization behind the bike murals. "You don't have to be a superhero."
There's a slow-growing middle class of cyclists in Beirut. They're the kinds of folks you might see on a bike in European and American cities: young, educated, concerned about the environment. A recent biking boom has been focused on sports and leisure cycling, biking advocates say, but the number of bike commuters is increasing as well. They're still mostly male, Hawa says, but there are more and more women picking up cycling. (The guides at the Thursday-night ride earlier this month were evenly split by gender.)
Siwar Kraytem, a cyclist and graphic designer who created Beirut's unofficial instruction manual to getting on a bike—"A guide to cycling in the city of organized chaos," the cover declares—says she sees a lot of advantages to biking for women. "Of course you can be harassed when you're on your bike, but you can control your destination," she says. "You're not in someone's car."
But these groups' grassroots efforts can only accomplish so much—at some point, the public sector has to step in. Noubar Korjikian, the owner of CycloSport, a downtown bike shop that's been in his family since 1932, says that the city has long dragged its heels on building up bike infrastructure. "I worked for years to try to do something with these big people, these government people," Korjikian says. "But I didn't find anybody giving me a push, or giving a push to the cycling community."
When Solidère, a controversial private company with links to the government, took on the project of reconstructing downtown Beirut after the devastation of civil war—a process which critics say resulted in an enclave for the wealthy and the razing of what historical architecture still remained after the conflict—Korjikian says he tried unsuccessfully to get the company to include bike lanes. He clashed again with Solidère in 2006, when he says the company forced him out of an open space he'd bought downtown for renting bicycles on weekends. He was of the wrong religion, ethnic background, and political party, he says, so he never stood a chance. (Solidère has not yet returned a request for comment.)
One bike advocate who appears to have the government's ear is Jawad Sbeity, who runs Beirut by Bike, a high-profile rental company with thousands of bikes. He's the one behind the downtown bike lane, which was installed in April and runs through Solidère's backyard, and the nascent bike-sharing program. Together, they're the most concrete signs of a developing bicycling infrastructure in Beirut.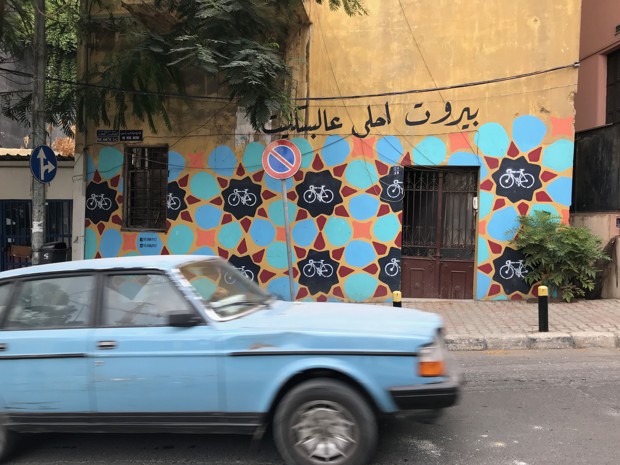 Sbeity "has definitely done a lot for the cycling world," Hawa says. "Everyone who's gotten into cycling in Beirut probably got started on Beirut by Bike." His company puts on free "mega rides" that he says can attract upwards of 2,800 people, all around the country. But his business-oriented approach and exclusivity has ruffled some feathers in the community. He didn't consult anyone before installing the downtown bike lane, advocates complain. The lane itself is considerably narrower than the standard five-foot width, and it's demarcated by little more than a single white line on the left side of the one-way street. "It's actually doing harm more than it's doing good, because it's giving a bad image of cycling," Hawa says. "It's media; it's PR." (At the lane's unveiling, the Lebanese prime minister made a cameo on one of Sbeity's rental bikes.)
But Sbeity says the lane is just a prototype, to prove that building infrastructure is possible, even in Beirut. He shot back at his detractors in the bike community: "They all want to sit, drink coffee, open coffee shops, and chat and chat and chat," he says. "But nobody wants to go and knock on the door of the municipality or the government."
As the pack of Thursday-night bikers rumbled over the cobblestones of the wide downtown street with the bike lane earlier this month, few bikers stayed within its painted confines. On the same block, a pair of exotic $200,000 supercars sat out in front of a dealership, surrounded by admirers. Many turned their heads as the bikers pedaled by, crossing through what was once the no-man's land that separated the Christian and Muslim halves of the city during the war.
By the time the bikers returned to Korjikian's shop, which provides the rental bikes and safety equipment for the weekly night rides, it was getting close to midnight. He was still there when the group returned to gather his riders' bikes and sweaty helmets, hanging them up until the following week.