Stories of school resegregation are common these days, but the historian Pamela Grundy didn't think she would she would end up telling one. In 1998, Grundy decided to write a book about school integration in her city of Charlotte, North Carolina, particularly at historically black West Charlotte High. "It was at a time when political and cultural rhetoric was shifting to the failures of desegregation," she says. "I wanted to think about what desegregation did accomplish, and tell the story of a successful integrated school."
From the mid-1970s until the early 1990s, Charlotte was the most desegregated major school system in the country, and West Charlotte High School was its flagship. A 1969 federal ruling mandated that each Charlotte school's student body be 70 percent white and 30 percent black, to match the system-wide demographic.
After a few rocky years, families, students, teachers, and administrators settled in to busing and integration, and Charlotte became a national success story. In 1974, when Boston erupted in violence over its first year of full-scale, court-ordered busing, West Charlotte High hosted students from South Boston so they could see integration in action.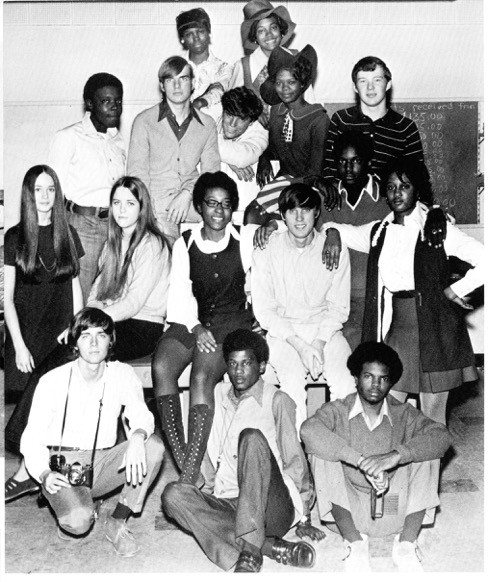 But in 1999, a year after Grundy decided to pen West Charlotte High's story, a federal judge ordered the city to stop using race in school assignments. Busing ceased. "It was shocking," says Grundy.
Today, West Charlotte High is 85 percent African American, and almost 83 percent of its students are economically disadvantaged.
Accordingly, Grundy's book, Color and Character: West Charlotte High and the American Struggle over Educational Equality, published this month, explores not only West Charlotte High's integration success, but also its subsequent devolution through legislation, increased inequality, and urban displacement.  
CityLab caught up with Grundy to talk about the school's trajectory and what residents can do to foster more equal schools in their communities.
What made West Charlotte High's integration work?
West Charlotte was the only historically black high school left in the city, and there was a lot of conflict over which white kids were going to have go to it. In the end, a group of wealthy, white parents decided that they were going to put their kids on those buses, and this served as a catalyst. There was a strong sense among them that they were doing something bigger than themselves and their children. The city's leaders also made integration a priority, as having Charlotte's schools in racial turmoil did not advance the city's reputation on the national stage.   
It was tough for the West Charlotte community to see their school change. It was an elite black school with strong black teachers. But they welcomed the white students.
What were some successes of West Charlotte High School as an integrated school?
Having the children of powerful parents brought more resources to the school, which strengthened its materials and curriculum. It also had great music and drama programs and sports teams, and the community felt that the school's diversity played a key role in that success.
And if you talk to alumni from the heyday of integration, they all say how much it meant to them to know different types of kids. West Charlotte was very balanced: The black and white students came from a variety of economic backgrounds, and an ESL program brought immigrants as well. No one was dominant, and that meant kids felt that they could try on different identities, be part of different groups.  
What about the challenges?
There were stereotypes and misconceptions to overcome. It took work to integrate some of the extracurricular activities, and especially to make sure that black students were in advanced classes.
The other problem, even as schools were integrating, is that Charlotte itself became more segregated by income and race. In the 1980s we see the income gap start to widen, as Ronald Reagan's economic policies—tax cuts, decreased social spending, deregulation—benefit the well-off and harm the poor. Developers built housing for affluent, mostly white residents in the suburbs. Low-income housing for mostly black residents became even more clustered in the city's center. These changes made it more difficult to bus, because blacks and whites were living farther from each other. [Editors' note: See the maps below for an illustration of how segregation increased in Charlotte from 1970 to 1990.]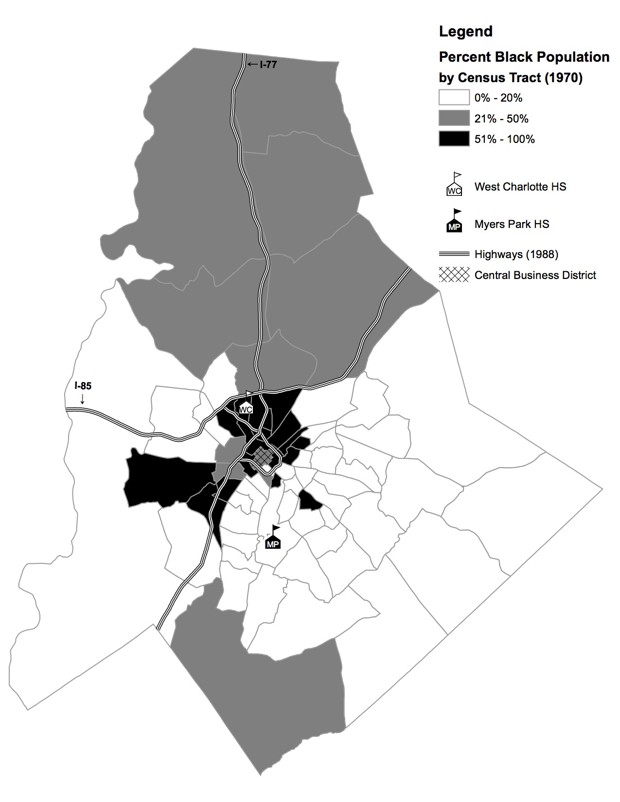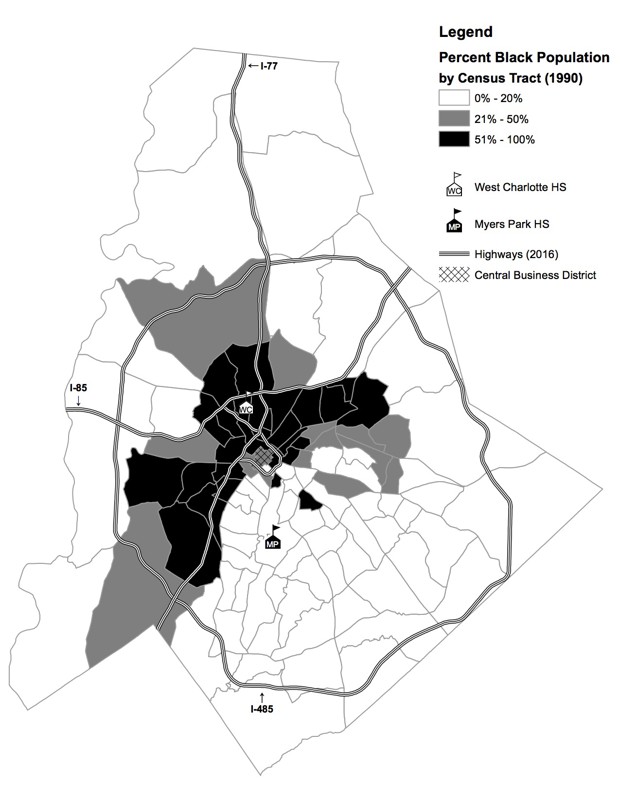 How did the increase in economic and spatial inequality contribute to West Charlotte High's resegregation?
The city reassigned students to schools primarily based on where they lived. Because of the concentration of poverty in the city center, West Charlotte's population ended up as the city's poorest and least diverse.
This occurred at a time when parents were feeling more anxiety about schooling, with a greater focus on the well-being of individual children rather than larger social goals. There was a scramble to get kids to what were seen as the better schools, and when families from better-off areas were given the choice to continue sending their children to West Charlotte, most didn't. And many more-prosperous families who were newly assigned to West Charlotte sent their children to magnet programs instead. The school was faced with educating a large number of the city's most challenged children.
What educational factors are exacerbating this inequality today?  
For a long time, policymakers were operating with the idea that a school's demographics didn't matter, that the right combination of training, testing, and accountability could lift up any school. Charlotte has tried a lot of that, and it doesn't work. Schools with high concentrations of low-income students are trying to counter all the challenges in those students' lives—and they just can't. There's a lot of stress and instability when you're poor. For instance, it's hard for low-income families to find affordable housing, so a lot of families are constantly moving. That's hard on kids.
There are dedicated, hardworking teachers at these schools, as well as students who overcome great obstacles and succeed. But there's also a lot of turnover. It's hard to recruit experienced teachers, and the less-experienced teachers tend to burn out quickly or move to higher-income schools as soon as they can. High-stakes standardized testing creates a huge amount of stress, and it often turns into an exercise in shame and punishment when scores are low.
What can be done?  
I strongly believe that if you want schools to be equal, they have to be racially and economically integrated. The community as a whole has to have a stake in all the schools. But there's so much emphasis on choice now—on making what you think is the best individual decision for your child—rather than working toward a common good. Choice and competition mainly benefit families and communities that already have resources. And there isn't much appetite at the state or federal level to pursue integration. Nor is there a desire among leaders at any level to challenge the market forces that are increasing inequality. Without some of these larger shifts, there's a limit to what schools can do.
So, in many ways, it doesn't seem like change is coming down the pike. But we can start with small, local efforts. For instance, the Charlotte school board recently decided to pair two sets of schools—two low poverty and two high poverty—that are relatively close to each other. In each pairing, all the students will go to one school for K-2 and the other for 3-5. Some parents will send their kids to private or charter schools to avoid the arrangement. But others will do it.
It isn't nearly enough, but we have to start somewhere.