Vewiser Dixon leans forward behind his wide wooden desk and waxes on about his neighborhood. Dixon has lived in this corner of Kansas City his whole life; it was once and perhaps remains the beating heart of African-American life here—18th and Vine, made famous by Charlie Parker, Count Basie, and that set. Dixon now owns property along the rough-strewn blocks around the jazz district, and he has a vision.
"It was our mecca for black business, you know?" he says. "That's my dream—to restore that in the 21st century."
Dixon's immediate plans are modest ones: He wants to open a coffee shop—a little café, with some entrepreneurial space upstairs and a market-rate apartment complex nearby. But that could serve as the cornerstone of a newly vibrant neighborhood—a "black Silicon Valley" full of startups and business incubators.
Opening a coffee shop seems simple; it's the kind of thing that happens on street corners and in neighborhoods in cities everyday. But here, in a neighborhood that has suffered through generations of disinvestment and entrenched poverty, nothing is so simple. Dixon has the space and the vision—he now owns many of the properties surrounding the jazz district's main drag along 18th Street. But the capital and resources needed to bring that vision to life have not materialized.
"They don't exist as much," he says from his office. "The need has been identified, but who's going to be the first to jump in?"
Dixon has one part of the entrepreneurial formula, but lacks the other necessary elements—not just funding, but the supportive network of people, banks, real estate, developers, and expertise needed to start new businesses and make them successful. In other words, Dixon's neighborhood at the moment lacks an entrepreneurial ecosystem.
That word—ecosystem—claims space on posters and printed articles in Dixon's florid office. Through the development startup he's founded, Dixon hopes to coax a more congenial economic atmosphere to life here, transforming vacant and underused swaths of jazz district dirt into new businesses, owned and operated by people in the community.
Entrepreneurship advocates see people with Dixon's drive and community connections as the lynchpin of a burgeoning movement in economic development dedicated to spurring new businesses by connecting the resources required to grow a business from startup to success. It's a simple concept, but proponents of entrepreneurial ecosystems say communities are often frustratingly bad at organizing business resources, while startups struggle to marshall the combination of money, know-how, and guidance on their own.
This summer, the Kauffman Foundation, the Kansas City-based nonprofit that promotes entrepreneurship, organized a national summit dedicated the concept of these ecosystems. While the event served mainly as an introduction to the initiative, organizers believe the event will launch a broader effort to examine what resources exist in cities and towns around the country and work to build networks from those parts.
Philip Gaskin, a Kauffman Foundation executive who helped organize and host the summit, says the ecosystem model can help those communities by building metaphorical bridges, as he says, linking those with physical and monetary resources to the aspiring business-owners with ideas and drive. Those resources might be public or private, but right now they are not, for whatever reason, getting to the right people and the right places to spur economic development—particularly in under-invested parts of the urban core. "It's not that some government money isn't there. It's that, how does it get to be more useful?" he says. "And who are the non-government players that can really infuse so much into this?"
To answer those questions, the foundation issued a request for bids for researchers who will examine and collect data from six communities around the country. The foundation will chose the six cities in October, and researchers will measure the cities' existing resources, how readily prospective startups can secure those resources, which communities are most often left out, and why. The goal is to identify market gaps that can stifle business creation and exacerbate the unequal distribution of startups between communities. The question, Gaskin says, will be, "What are the blind spots, and who's not connected?"
Specifically, the project will be looking for "keystones"—people like Dixon who are both entrepreneurs themselves and the glue that can connect different startups with the resources they need. A healthy economic ecosystem has multiple examples of these kinds of people. Victor Hwang, the summit co-organizer, wrote along with Greg Horowitt what has become the ur-text for ecosystem builders: Rainforest: The Secret to Building the Next Silicon Valley. The book cities the work of a man named Bill Otterson, who used his vibrant personality and connections to boost San Diego's startup scene. Once researchers identify gaps in the ecosystems of the six test communities, Gaskin says, the foundation hopes to identify those Otterson-esque keystones who can build networks and shepherd resources.
The cities that are succeeding in creating those networks of access, expertise and cash—places like Silicon Valley, along with the aspiring tech hubs of Boston, Austin, and so on—are exceptions in an increasingly hostile environment for American startups. Entrepreneurship in America has plummeted by nearly a quarter over the past 40 years, with only a slight increase in new business starts as the economy has recovered from recession. And much of that activity is increasingly concentrated in a handful of cities. The dominance of online retailers, chain stores and mega-corporations is partly to blame for snuffing out all those aspiring coffee-shop proprietors, drug-store owners, and mom-and-pop retailers, as well as the smaller, U.S.-based producers who struggle to satisfy the output and price demands of retail giants. This is true across many industries and every community—from farms to the urban core.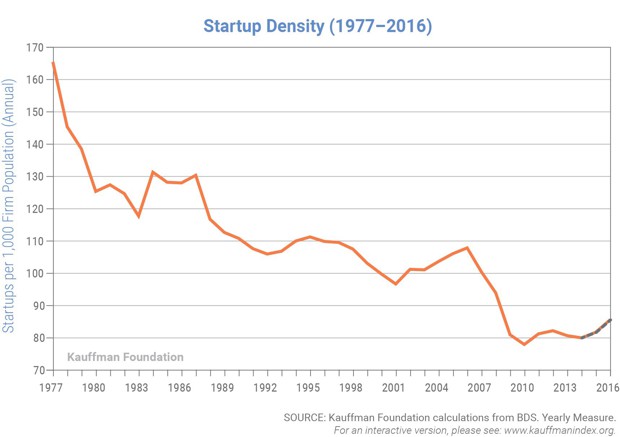 In communities suffering from persistent crime and poverty, new business creation even less dynamic. The number of minority- and woman-owned businesses is always lower than overall entrepreneurship; the country's free falling rates of new businesses have hit those communities hardest. The Census Bureau examined entrepreneurship for the first time last year and found that less than 20 percent of small businesses were minority-owned, and African-American-owned businesses made up just 11 percent of that total—a sliver of a sliver of all startups in the country. While minority and women-owned businesses saw gains in 2015, they were marginal compared to entrepreneurship overall. The neighborhoods suffering most from disinvestment and stagnant business growth are likely half female, and primarily black or Latino. "Those are the demographics that are least in the funnel right now," Gaskin says.
The paucity of new business development in black and brown neighborhoods across the country is certainly not new; disinvestment from African-American neighborhoods has affected cities around the country and handcuffed new business growth. Those who preach the gospel of ecosystem building see it as a solution to lagging development, and its champions at the summit stressed that real-world entrepreneurial networks must be racially and economically diverse.
But where resources simply don't exist—if developers and lenders systematically avoid certain communities—the puzzle becomes more complicated, Gaskin says; there are myriad obstacles to entrepreneurship in urban core communities that he says are admittedly difficult for the ecosystem model to address. "Until those communities are healthy and connected, it's gonna be hard," he says.
Kansas City, the backdrop of the summit, is a perfect example of that. The city is deeply divided, both racially and economically. A dozen blocks to the east of the conference space, residents in the city's historically black East Side neighborhoods have suffered through decades of disinvestment; developers and financiers have typically eschewed projects there, deeming those neighborhoods unready, unsafe, or otherwise too risky an investment.
Dixon has struggled with this directly when he's tried to get financing to refurbish his properties. He has examined every angle, from private bank financing to available tax credits that could help lure tech companies. He sees banks financing projects elsewhere in the city; downtown and the city's Crossroads district, just a couple of miles away, are booming. "Now, because of my color," says Dixon, "that's where we start getting the pushback. Which bank is going to take that on?"
That's the trick, he says: convincing sources of capital to invest in troubled areas, without the government mandating it. His neighborhood has everything it needs, Dixon says—history, vacant land, the support of the city and developers. Entrepreneurship can take off here—if someone can just put the pieces together.