When the Hall of Nations—a modernist icon of New Delhi—was razed to the ground in April, the move was decried by many within India's architectural community. One group, which includes the architect and engineer who designed the structure almost half a century ago, declared the demolition to be "an act of outrage."
As I detailed for CityLab just weeks before the Hall of Nations was torn down, the building was commissioned by the Indian government to host the country's first major international trade fair in 1972. It also served as a symbol of the country's progress as a nation 25 years after independence.
The site where the Hall of Nations lay, quite aptly, is known as Pragati Maidan ("Progress Grounds"). There, the building went on to host many fairs and exhibitions over the years. But now, with the dust barely settled from the demolition and its fallout, the Indian government is eyeing progress again through what just might be the most ambitious plans independent India has ever seen.
The redevelopment of Pragati Maidan now has an estimated cost of around $385 million. The project centers around the construction of an Integrated Exhibition Convention Center (IECC), equipped with as many as three helipads and a seating capacity of 7,000.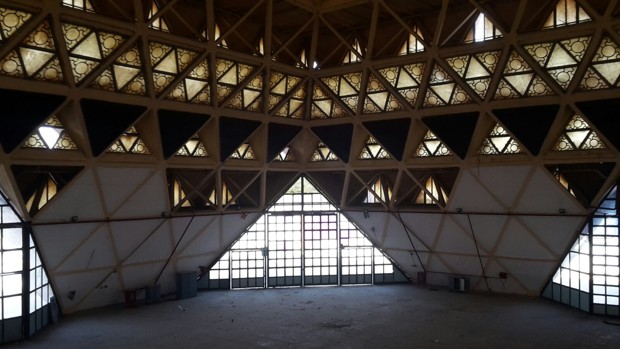 From the outside, the IECC will be a modern, elliptical structure with a sloping facade, elevated by a podium under which an amphitheater will host cultural events. On the inside, the building will offer a "window to Delhi"—a view of nearby sights such as the Supreme Court of India, India Gate, and the presidential home, Rashtrapati Bhavan. The overall complex, meant to potentially hold global summit-level events, is also expected to have a 500-room luxury hotel and a parking garage for 4,800 vehicles.
LC Goyal is one of the key figures behind the project. A career bureaucrat, Goyal took charge of the India Trade Promotion Organization (ITPO), which oversees Pragati Maidan, in September 2015.
The idea of redeveloping the site has been discussed in the past. But during Goyal's tenure at the ITPO over the past two years, the idea has come closer to fruition than ever before. When meeting Goyal at his Pragati Maidan office to discuss the plans, it's clear he's highly invested in the project on a personal level.
"I give more than 100 percent to any job that is given to me, all through, right from day one. This is probably the last assignment that I have in the government," says Goyal.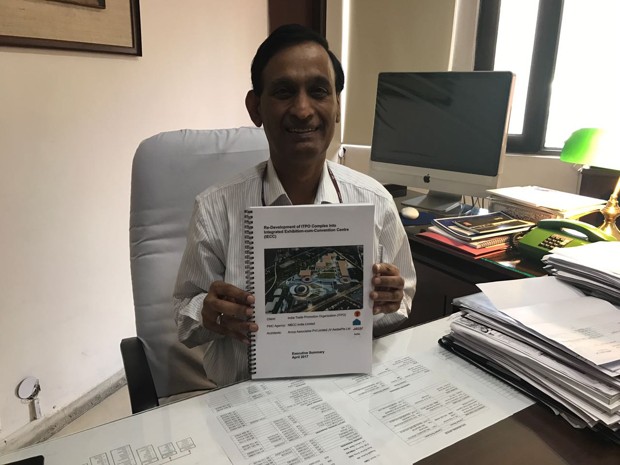 Though he has no formal background in urban planning or architecture, he quickly got to work on Pragati Maidan's redevelopment after taking over the ITPO, fully immersing himself in its details, especially an elaborate web of planned traffic interventions around the site aimed at easing congestion in an already heavily clogged area of Delhi. According to a video released by India's Press Information Bureau in May, at least ten new roads are planned. The centerpiece of the traffic interventions will be a 0.75-mile, six-lane tunnel which will lead into Pragati Maidan's new underground parking facilities. The tunnel will also link two of the city's heavily congested roads.
Goyal says the traffic interventions will cost around $138 million alone, and cites them as essential part of the project, without which he never would have moved forward. "It was very clear in my mind that I will not take up this project unless it is coupled with traffic interventions….[There is] no point spending so much of money to have a world class complex if I'm not able to ensure uninterrupted, unhindered access," he says.
Proponents of the project say it's a golden opportunity to deal with the area's choked roads. But critics like Swapna Liddle of the Indian National Trust for Art and Cultural Heritage (INTACH) still question the wisdom of constructing a convention center in the middle of an already congested city. "What we were saying is that it would be nice to locate this maybe near the airport," she explains. "But a big convention center like this, [in the middle of the city] is not the not the best place to have it."
Liddle's concerns run deeper than just traffic. She believes the Pragati Maidan of old was able to draw Delhi residents to intimate fairs and exhibitions in large part because of its location within a nexus of recreational local attractions such as the nearby Old Fort and National Science Center. A convention center, she worries, may not be as a good a fit for the area. "It was a sort of fairground… in keeping with the surrounding institutional structure," she recalls. "I think a convention center is very different because it involves the coming in of a large number of people who come in from outside, have a conference or whatever it is, and then go out."
As described by Liddle, the role Pragati Maidan has played in the civic life of post-Independence New Delhi is a reminder of the controversy that surrounded the Hall of Nations' demolition. Central to the debate was the question over whether the building could be considered "modern heritage."
From the government's perspective, the answer was 'no,' because the building was less than 60 years old. But many architects, historians, and cultural commentators have taken issue with the 60-year threshold, set by Delhi's Heritage Conservation Committee (HCC). Such critics lament a lack of appreciation for modern heritage, which they see as part of a broader trend that emphasizes flashiness and catchy buzzwords.  
"The delight in gigantism—the Burj Dubai obsession. A convention center for thousands of people!" quips Narayani Gupta, a renowned historian known for her work on Delhi's urban history. "Personally, I have no idea what 'world class' means.... 'state of the art'—this is like shopkeepers trying to persuade you to buy something, saying 'This is the latest!'" she says in reference to the government's new vision for Pragati Maidan.
Though Gupta has long been an advocate for the preservation of Delhi's urban architecture and art, she knows these issues are not a priority for most of the city's residents. "Delhi is getting there and has become a more 'aware' city than it was some decades earlier. But 'urban art' means nothing to people who only think of plots of land and bigger cars, people who do not walk, saunter, or look at the city," she says.
Those behind Pragati Maidan's redevelopment however, say they struggle to understand the criticism the project has received. They say that while they are focused on progress, their design has still been very conscious of Delhi's past. 
"[These buildings] embody the architectural heritage that this country has," says architect Sanjay Singh, the director of Arcorp, the Delhi based firm behind the project. "I'm willing to debate on any forum whatsoever to put my point forward [against the idea] that these buildings are not modern buildings that do not belong with their roots here."
Singh speaks repeatedly of giving something to the city through architecture rather than taking from it. He believes the new Pragati Maidan will be a strong example of that philosophy. Singh is especially proud of the site's planned outdoor plazas, fountains and eateries, all easily accessible through the parking lot which will be connected to an air-conditioned basement lobby with an elevator. All of these amenities, he feels, will provide Delhi residents with an "island of sanity" from their otherwise polluted, crowded and unsecure environs.
"[Previous architecture] signified, implied the desires, the values of those times. We're sitting today in 2017. We need infrastructure which is in line with that," he asserts. "We wish to make a statement that people can come, people can take a stroll in this plaza. You can just be there, sit around, talk to your friends. See the musical fountain, just have a good time."
But if Singh and Goyal's dreams for Pragati Maidan are to be realized, they may have more than just criticism of their architecture and urban planning to contend with. Almost five months have passed since the Hall of Nations and several other buildings at Pragati Maidan were demolished, yet work on the site's redevelopment has barely begun.
The delay is somewhat surprising after an ITPO press conference in May where it was announced that work was expected to begin in July. Still, in a conversation with CityLab when that target was clearly going to be missed, Goyal appeared unfazed and remained confident that construction would begin soon. Delays on major projects like Pragati Maidan's redevelopment are, of course, not uncommon.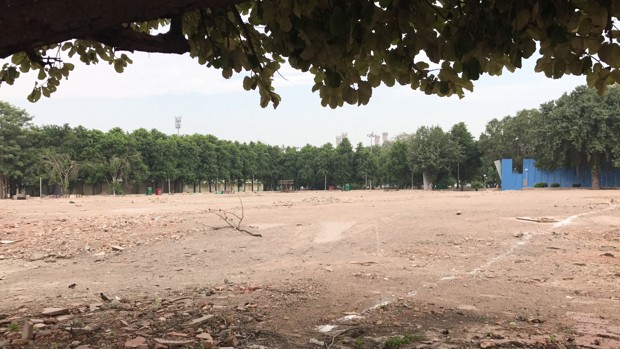 Singh of Arcorp also seemed unaffected by the delay when reached last week, though he acknowledged that activities had at that point been limited to soil investigations and a fencing off of the site. But a subsequent visit to Pragati Maidan found virtually no such fencing to prevent entry, and that some of the rubble from April's demolitions remained uncleared.
There's also another chapter in this saga worth noting. Though the ITPO's legal battle with a segment of Delhi's architecture community may have ended with a series of demolitions, a new one has begun with environmentalists. An environmental clearance—the last authorization the ITPO needed to start the project—obtained at the end of July has since been challenged on the grounds it was secured by "concealing material information."
Goyal of the ITPO could not be reached for comment on this latest development. But Singh downplays the notion that issues related to the environmental clearance will delay the project further. "Work has been awarded to the contractor and activities have started," he says. "No environmental clearance has been taken away… We have all the clearances in place. There is somebody who has gone to the NGT [National Green Tribunal] with respect to trees. But there is no stay [on construction]," he adds. "The court has not given any stay, so I don't think there's anything to it."
But environmentalists opposed to the redevelopment say more than 1,700 trees are threatened by the project, and in a twist of irony, point out that many of them are more than 60 years old. Whether that fact will change their fate, remains to be seen.