School is now in session at Cornell Tech, the Ivy League university's highly anticipated engineering campus on Roosevelt Island in New York City.
The project was conceived through a economic development initiative in 2008 under then-mayor Michael Bloomberg, in which the city would give land and $100 million in exchange for an applied-science campus that would generate new jobs for New York. Cornell and Technion-Israel Institute of Technology's joint bid was announced the winner, beating out six other proposals, in December 2011.
Formerly known as Welfare Island until 1971, Roosevelt Island sits in relative obscurity within New York City, despite its easy public transit access to Midtown, amazing views, and overall tranquility. Today, the narrow 2-mile-long island also boasts a mix of postwar housing, the ruins of an early 20th century smallpox hospital, and a Louis Kahn-designed memorial to Franklin Delano Roosevelt—the island's namesake.
On what was previously a modernist hospital complex, three new buildings now make up the 12.4 acre campus anchored by Field Operations's landscape architecture: Bloomberg Center, an academic building by Morphosis; The Bridge, by Weiss/Manfredi, which has both classrooms and office space; and The House, a residential tower for students, designed by Handel Architects. A fourth building, the Executive Education Center, will bring a hotel with conference space and classrooms to the campus by 2019. Designed by Snøhetta, it will serve as a "front door for the campus," Cornell has said. It's expected that the campus will continue to grow within its current boundaries over the next 20 years until reaching 2 million square feet of developed space.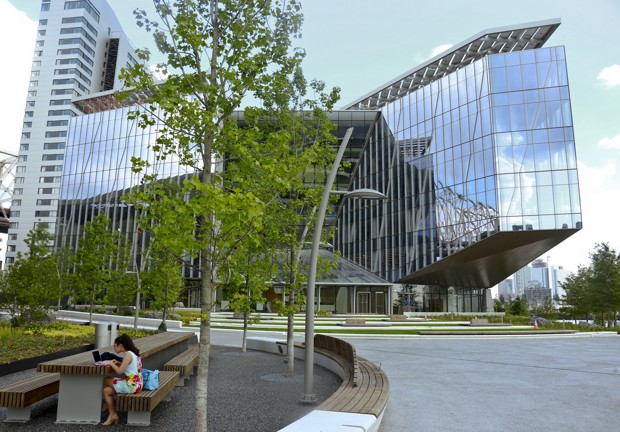 All of this fits into a single master plan by Skidmore, Owings and Merrill. The firm was brought on board by Cornell back in 2010 to help them put together what ended up being a winning proposal. SOM has a long history of developing university plans, but Cornell Tech's location and goals are rather unconventional. CityLab spoke with SOM design partner Roger Duffy about the campus today and how it should evolve under the plan he helped put together for it:
How much has the vision for the campus changed since your initial conversations with Cornell?
I think they had no preconceptions about the site. The idea of not having a typical campus framework eventually came to the fore during our discussions. We wanted to create a campus that was more open to the river on both sides, as opposed to being a campus of quadrangles. Early on we knew we wanted it to be really open and engaged with the public realm without any gates. It's an unusual looking master plan because it's an unusual site. Compared to campus plans as a typology, this is a very unique and distinctive one.
What are the core principles of the master plan?
Roosevelt Island has a central spine and then perimeter walks along the river. We continued the idea of the island's central spine, the difference is that our central spine is elevated above the floodplains with episodic releases. As you're walking along, there are these moments where there's public green space with views that open up to the East River, Queens, and Manhattan.
It's sort of rhythmic. There are buildings on both sides of you and then—pow—it's open. We continued the walkway that's already part of the public pathways. It's a little tricky with the entrance of the site because there's a big gymnasium there, so you have to approach it from the edges and then from there you converge diagonally into the middle and walk along and back out again to the FDR memorial at our end of the island.
We wanted to create seamless flows and then along that spine we wanted to activate the walkways with things like cafes that would give it life. There's a lot of transparency in the campus. That's so people will see a hive of activity and buildings that are engaged with the public.
How will people interpret the campus transparency through its architecture?
The City Planning Department became a protagonist in the approvals for this project. They were very engaged in trying to activate the public realm. There was a lot of emphasis on pedestrian scale, human scale, not just transparency through glass buildings. That was a strain of their thinking across the city at the time, and it manifested itself through this project.
They still care about those things but different buildings around the city take different approaches. You'll see defensive conditions like bollards because individual owners have their own security issues. Cornell Tech is a little different: It's uniquely more engaged and open with the public as it moves through the site, which is appropriate, seeing as the 12 acres were essentially donated by the city. It's a consistent gesture and good on Cornell for following that kind of thinking.
How will a student's typical day be different here from someone on a classical campus?
The hope is that it will be a hive of activity, but in a way that's different from the classical campus that sees itself as a castle of knowledge. The spaces here are much more open loft-like environments. The whole campus and the individual buildings are engaging in chance meetings and interactions. A lot of classical campuses have been designed with singular rooms or library study carrels—a more personal type of searching. Cornell Tech is meant to be more outwardly engaged.
On a macro scale, Bloomberg's vision was to have this be a catalyst for change, spawning companies in an applied research kind of way. It has its limits of growth, physically speaking. The catalyst will happen in a silo at first but then it will spread into Manhattan and Queens and spread out like Silicon Valley.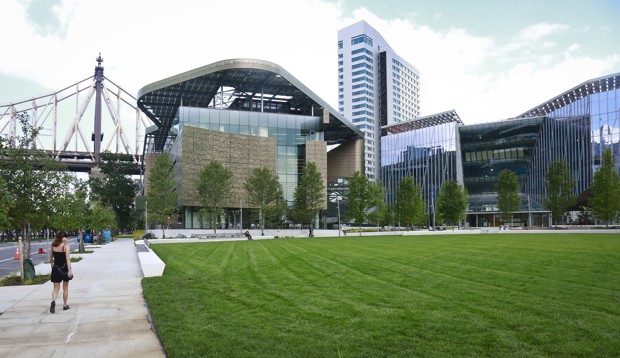 As master planners, do you communicate with architects on individual campus projects?
The framework is set and the individual sites are defined for the buildings. We engaged the first group of people in that kind of collaborative spirit because it was early on and there was nothing there yet. I'm not sure how that will develop in the future, but hopefully there will be engagement because it isn't built out yet. The gardens and parks and all of that will have to happen in time, so I would imagine there would be engagement. But that remains to be seen.
Is that typical for a university campus or does it vary from client to client?
This is different than most. Many campuses have master plans and then they're amended from time to time or rethought in their totality. I'd say there's a 10-to-15-year cycle for a typical campus. This is different because it involved public approval and it's a new set of strictures that define how these things get developed. The smart money is on it progressing as it has been designed. Someone would have to have the appetite to reopen the public approval process if they wanted to revisit the plan.
Are there any ideas or outcomes from this project that have influenced other projects since?
No, but other projects have influenced this thinking. We were designing P.S. 62 at the time, the first net-zero energy school in the city. So, we proposed to Cornell that the campus be net-zero, too. Many of the buildings moved in that direction and it's an important thing. The residential tower is a "Passive House" [an international building standard for dramatic environmental footprint reduction].  Bloomberg Center, the first academic building, has solar arrays on its roof. Those are great things. It's the early days in New York for that kind of thinking, but you see it more and more now. Every little bit helps and it creates a new mindset.
The open nature of it is something to be applauded, too. The gardens that Field Operations did and how they're stitched into the surroundings are really well done.
It's the first increment of the master plan, so it's hard to judge the totality of it at the moment. We don't know what the future buildings will be like or how the chemistry or dynamic inside the buildings will change. But you can get a flavor for how it might develop.