The lines at Plaza del Sol, a mall just outside San Juan in Puerto Rico, must have stretched around the building. For hours on end, crowds of people gathered around a minor technological miracle: two working cell phones, and a power outlet to keep them charged.
The phones were borrowed from some unnamed Good Samaritans, and the calls were short—one minute, two minutes, just to check in with loved ones all over the world—but they added up to hundreds and hundreds of minutes of continuous usage.
"We had consumers that were standing outside the mall, plugging in where they found power, and people were lined up to use their phones, our customers' phones to make calls," says Issa Asad, the CEO of Q-Link, a wireless cell provider.
When Q-Link noticed the spike in usage three days ago, agents called the customers to find out what was up. They had discovered they still had cellular service in the aftermath of Hurricane Maria. And that meant that their phones belonged to the whole community. "We called the handsets to realize what they were doing, and we enabled them to do such," Asad says.
Q-Link extended unlimited texts and minutes for at least the next month, not only to those phones but to all its customers in Puerto Rico. The company did the same thing for customers in Texas and Louisiana struck by disaster during Hurricane Harvey. It's the right thing to do, Asad says. In fact, as he's told the Federal Communications Commission, he thinks that the government should require carriers to do this after a storm.
Q-Link is the third-largest U.S. provider of Lifeline, an FCC program that provides phones and service to low-income users, which means that the company is extending a vital service to some of the most vulnerable victims of these hurricanes. A proposal to make this act of corporate beneficence mandatory could make a real difference during disasters.
Losing your bars may not be as urgent a crisis as finding clean water or electricity, but it's pretty close behind. The lack of cellular phone service in Puerto Rico right now is contributing to the unfolding humanitarian crisis on the island. On Thursday, the FCC said that 90 percent of cell sites in Puerto Rico are out of commission. In 29 out of 78 counties, cell service is completely shot. The communication breakdown has socked relief efforts in Puerto Rico, where port authorities can't reach truck drivers to get food, water, and fuel moving. That's a bigger problem for Puerto Rico than anything related to the Jones Act.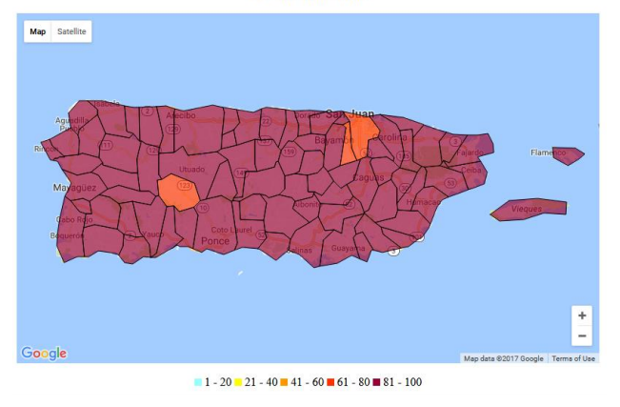 When someone finds they still get service after a natural disaster, they become critical communication nodes for anyone and everyone nearby who doesn't. The last thing anyone wants is for that customer to run out of minutes—especially when they represent vulnerable populations. That's Lifeline, a program that provides heavily discounted phone service to households whose income is at or below 135 percent of the poverty line. (Q-Link carries Lifeline in 28 states and territories; the company is awaiting approval from the FCC to extend coverage to 10 more states, including Florida.)
Emergency 911 calls on Q-Link's Houston network spiked by 900 percent after Harvey, Asad says. Providing all that free bandwidth comes at a cost for Q-Link, of course. That's one reason that Asad has proposed that the FCC require Lifeline providers to extend free coverage after disasters—and for the FCC to help out with the costs.
"While Q-Link has undertaken these efforts voluntarily, we urge the Commission to consider whether a supplemental allotment of Lifeline support for additional minutes for consumers located in federally declared disaster or emergency areas should be a part of the Commission's response to future disasters," reads Asad's presentation to the FCC, dated September 6.
So far, though, the agency has focused on other priorities. FCC Chairman Ajit Pai has been putting public pressure on Apple to activate FM radio chips in its iPhones after hurricanes, calling on the company to "step up to the plate and put the safety of the American people first." Too bad that won't work: Apple told MacRumors its newest phones don't have FM chips at all. The older models, according to UI designer John Gruber, do use FM chips, but they're not connected to antennas. (Neither the FCC nor Apple responded to requests for comments for this story.)
In the wake of three back-to-back Category 4 storms slamming the U.S., the FCC has some questions to answer about its disaster preparedness. One Democratic FCC commissioner criticized the agency for failing to hold any hearings yet on the communication failures in Texas, Florida, and Puerto Rico. "Let's not kid ourselves, this is not enough," said Jessica Rosenworcel in a statement. She called for the FCC to get out in the field: "I believe you don't pull together a report with only the information you amass from sitting in front of your keyboard."
Even from the comfort of their offices in Washington, D.C., though, FCC commissioners could address Asad's proposal to require him and other carriers to open up their services to the poor during disasters. So far, he has not received any response.
"We went to the FCC and said, there has has to be a mechanism to trigger carriers like us to do the right thing," Asad says. "The right thing is to open up the lines, to let people be able to talk and text and reach first responders without setting any kind of cap or limitations on them."
Lifeline has a history with storms. The program is paid for through the Universal Service Fund, a subsidy launched in 1934 to make telecommunications possible nationwide. (Check your phone bill: the Universal Service Fund is on there.) Lifeline first launched in 1986; these government phones were restricted to landlines until 2008, when the program expanded to include cell phones. (These are the "Obama Phones" that welfare critics sneer at.) The expansion was a reform: Landlines were no use in flooded, submerged households in New Orleans during Hurricane Katrina.
Q-Link serves about 120,000 customers in Puerto Rico, but there are 300,000 total Lifeline users on the island—meaning that a lot more struggling households could use some extra minutes when they get service. TracFone and Assurance, the other big players in the government phone market, may well step up. Nothing's stopping them—but nobody's pushing any of them, either.
"We feel that the FCC should put a disaster-recovery plan in that enables us to help consumers," Asad says. "Because right now one doesn't exist."