In a four-day operation, Immigration and Customs Enforcement (ICE) rounded up almost 500 individuals in many so-called sanctuary cities—local jurisdictions that choose to limit their involvement in federal immigration enforcement. Philadelphia experienced the highest number of arrests (107), followed by Los Angeles (101), and then Denver (63).  
"Sanctuary jurisdictions that do not honor detainers or allow us access to jails and prisons are shielding criminal aliens from immigration enforcement and creating a magnet for illegal immigration," ICE acting director Tom Homan said in a statement. "As a result, ICE is forced to dedicate more resources to conduct at-large arrests in these communities."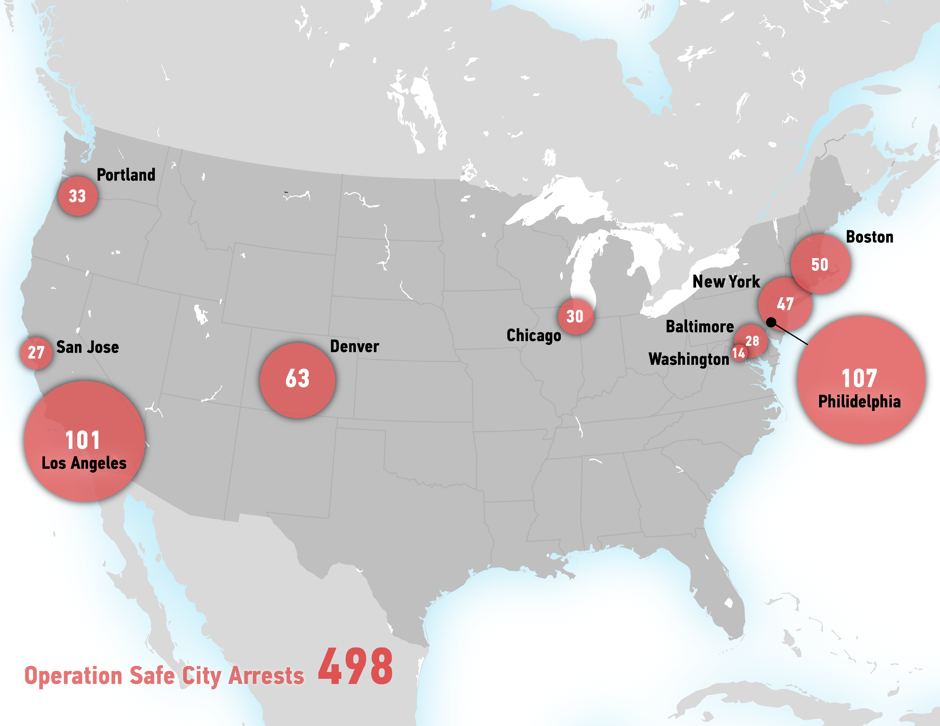 These targeted raids come after repeated blows to the Trump administration's efforts to punish these cities by withholding federal grants, which a court recently ruled is likely a constitutional overreach. Attorney General Jeff Sessions has long put a target on these cities, characterizing them as hotbeds of violence and vice.
The policies of sanctuary cities vary, but their unifying position is that they limit the extent to which their own local resources are devoted to federal enforcement. They do not block the federal government from enforcement; many of them do cooperate with ICE when it comes to violent offenders and let the federal agency access law enforcement databases.
In fact, many of the cities that refuse ICE's request to detain suspected unauthorized immigrants do so because courts have ruled the practice of detaining immigrants for the federal government is actually illegal. Still, ICE briefly took to shaming these cities in weekly public lists, until inaccuracies in their data came to the surface.
In its announcement about this latest round of raids—pointedly called Operation "Safe City"—ICE has highlighted the most egregious criminal cases among those arrested: battery, child and domestic abuse, gang membership. "ICE's goal is to build cooperative, respectful relationships with our law enforcement partners to help prevent dangerous criminal aliens from being released back onto the streets," Homan said in the announcement.
But a closer look at the numbers from Operation "Safe City" weakens the claim that these sorts of raids are targeted towards violent criminals off the streets. Out of the 498 people arrested, ICE data shows 181 people did not have any criminal convictions. Among the 317 that did, the highest number of people had driven under the influence (86). The next six largest categories were drug trafficking (14), assault (13), domestic violence (12), weapons offense (11), sex offense against child (10), and traffic offense (10).
Immigration restrictionists looking at these numbers say that the targeted enforcement is just another way to "restore law and order." But advocates point to the unfairness of crimes as small as shoplifting and as serious as rape having the same consequence. In fact, they say, deportation should not be used as punishment at all, given that someone who's been convicted has already paid their dues to society.
"You're creating a situation of double jeopardy," said Erika Almiron, executive director of immigrants' rights organization Juntos. "It's almost as if you don't think that the criminal justice system works."
Homan also asserted in his announcement that "non-cooperation policies severely undermine that effort at the expense of public safety."
But research has refuted this claim. One study found that cities that enacted sanctuary policies did not experience a statistically significant increase in crime. Another one comparing sanctuary and similar non-sanctuary cities showed that the former actually tended to have lower crime and higher productivity, likely because of better police-community trust and civic engagement.
Because of the continued bipartisan push toward "crimmigration"—the expansion in the number of offenses that can lead to deportation and higher prosecution of these offenses—some cities are widening the breadth of their sanctuary policies. They want to also include criminal justice and policing policies that might make immigrants vulnerable to immigration enforcement in the first place.