Keep up with the most pressing, interesting, and important city stories of the day. Sign up for the CityLab Daily newsletter here.
***
What We're Following
Down payment: It used to be that most young adults aspired to get married and buy a house, in that order. But Millennials, facing steep financial barriers and a tough housing market, have flipped the script on the American Dream. New homeowners aren't much older than before, but today, a larger share of them are closing on their first homes before getting hitched and forming new households at the time of purchase.
The changing attitudes of Millennials aren't the only shift. A new working paper from Harvard's Joint Center for Housing Studies crunched the demographic data and found that the profile of first-time homebuyers in the U.S. looks a very different than it did 20 years ago. CityLab's Linda Poon has the story: The Changing Face of First-Time Homebuyers
---
More on CityLab
---
Safe Haven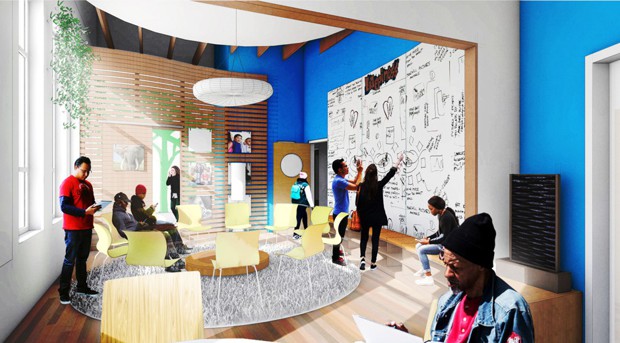 When people think of terms like "public safety" or "justice," images of prisons and jails come to mind. This fall, Restore Oakland wants to make the idea of "restorative justice" more concrete, opening a space dedicated to keeping the community safe and breaking the cycle of poverty and imprisonment. The nonprofit hub will be a collaborative meeting environment for the community, leasing space to local organizations, providing job training and housing assistance, and even hosting a restaurant on the ground floor. "If we're going to have strong communities, we need strong community-centered institutions," Zachary Norris, executive director of the Ella Baker Center for Human Rights, tells CityLab's Sarah Holder. Read: America's First Hub for Restorative Justice Will Open in Oakland
---
What We're Reading
As rising heat bakes U.S. cities, the poor often feel it most (NPR)
When did we start paying to park our cars? (JSTOR Daily)
The true cost of next-day delivery (BuzzFeed News)
London is changing skyscraper designs to favor bicyclists (Wired)
Where are the architects who will put the environment first? (The Guardian)
---
Tell your friends about the CityLab Daily! Forward this newsletter to someone who loves cities and encourage them to subscribe. Send your own comments, feedback, and tips to hello@citylab.com.