About a mile from the glacier, we stopped paddling our kayaks and listened for the rumble. "White Thunder" is the name some locals have for it—the sound ice makes as it's melting, breaking into pieces, and retreating. We squinted and strained, bodies alert, waiting for something to happen.
When it comes to on-the-nose symbols of climate change (and an individual's complicity in it), this scene is up there. My family and I had traveled to Alaska's Kenai Fjords National Park for a summer vacation. Together, we had flown, driven, and boated more than 7,000 miles to get to a land that's often described as "untouched." And there we were, under the sun of one of Alaska's hottest summers in recent memory, staring at something that looked so permanent, breathlessly waiting to see it change.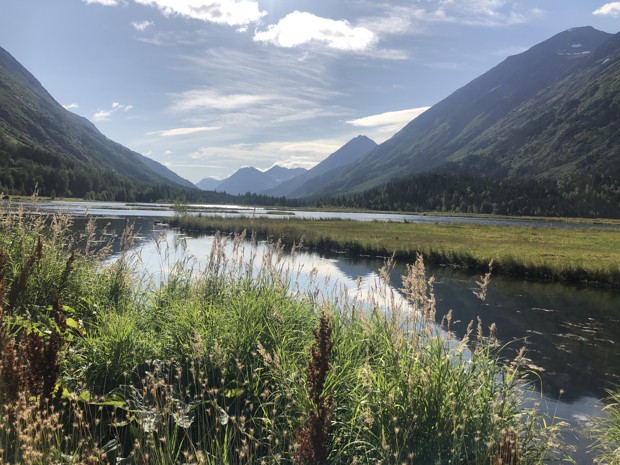 Technically, the crumbling of a glacier is one of the more complicated indicators of a warming planet, Rick Thoman, an Alaska climate specialist at the International Arctic Research Center, told me. "Even in a perfectly stationary climate, at any given time, about 10 percent of glaciers that end in sea water will be retreating," he said, because their faces are out in the open water. Change is natural in small doses. But now there's a smoking gun: Nearly all tidewater and mountain glaciers are retreating, too. "The only way to get that is in this warming climate world," he says.
Amid the growing signs of heat and humans, we also saw a lot that was beautiful, and strange, and totally natural. "Zombie" salmon—who'd finished laying and protecting their eggs and have nothing left to live or eat for—roamed the waters as they waited to die, covered with patched layers of decomposing flesh. Fireweed, a blazing purple plant with edible flowers, and small black spruce trees that looked like something out of a Dr. Seuss book, dotted open fields. Otter babies floated atop their mom's tummies, unfazed by the mountain goat staring them down from shore, or the tourists canoeing past them, oohing. They lived there. We were just visiting.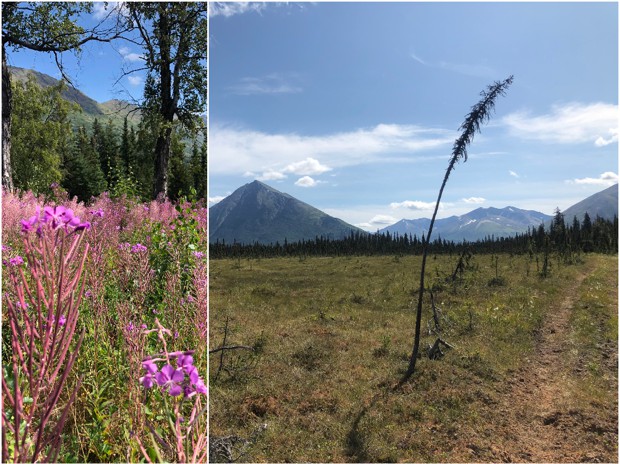 And then it was the end of the trip, and we all flew away—I returned to California; my family to New York. My carbon footprint got a fraction of a metric ton larger, and I got farther away from a place I'd never seen before, and that could be vastly different the next time I return. As I spoke to Thoman after my trip, though, I became aware of what I didn't see in Alaska: rural and indigenous communities, whose experience of climate change is much more immediate, and emotional, than that of tourists, or even those in urban areas.
"These cultures have been there for a very, very long time and will continue to be," said Thoman. "They'll find a way to adapt. But that comes at a significant cost."
What we're writing: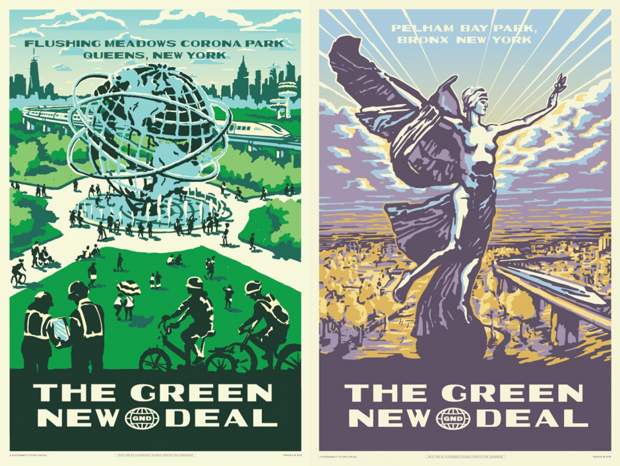 These Green New Deal posters have Big WPA Energy. ¤ Eating and listening your way through CDMX's many markets. ¤ So you want to fix a pothole? Rent it out on Airbnb. ¤ Welcome back to school! Dorms are nice now. ¤ In Washington state, librarians are an endangered species. ¤ A church, converted. ¤ If you think you live in the Midwest, take a look at this map. ¤ Design stars Chicago, Miami, New York … and Columbus, Indiana? ¤ Trains, trains, trains! They're the truest transportation revolution.
What we're taking in:
Okay, why is there a tomato growing in NYC's East River? (New York Times) ¤ A few black mothers in Mississippi are getting no-strings-attached funds. (Washington Post) ¤ BoJack Horseman's L.A. is the L.A. the locals know. (Curbed) ¤ On the street below an underpass, a battle for home. (Washington City Paper) ¤ An urbanist goes to Burning Man. (New York Times) ¤ When everyone else goes to Burning Man, too, who's left in San Francisco? (Wall Street Journal) ¤ The ghost towns of Instagram. (The Baffler) ¤ In 1905 Southern California, Japanese-Americans fought for the right to bike. (Zocalo) ¤ A day in the life of a tree. (The New Yorker)
Views from the ground: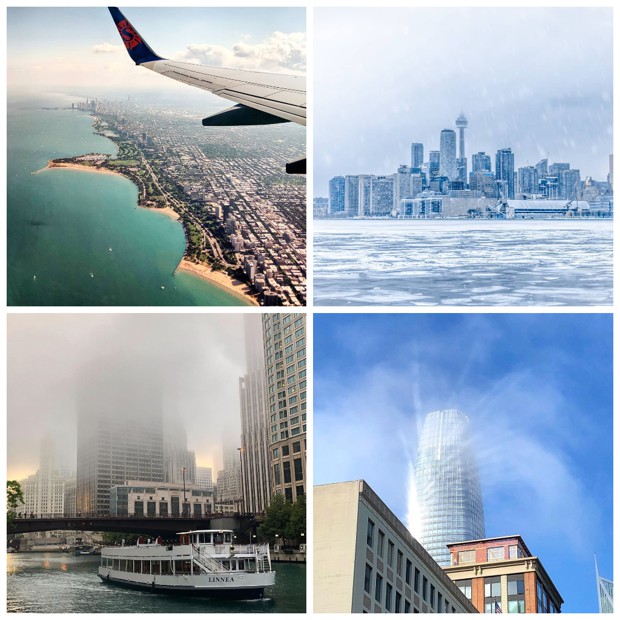 @sbcthemuse flew over Lake Michigan. @_rawfail resisted the urge to go swimming in Toronto's freezing rain. @andrewbc123 captured the fog rolling off Lake Michigan into Chicago. @melomys watched San Francisco's Karl the Fog hit the city's Salesforce Tower.
Showcase your photos with the hashtag #citylabontheground and we'll feature it on CityLab's Instagram page or pull them together for the next edition of Navigator.