What We're Following
A clean break: Racketeering. Graft. Embezzlement. Bribes. Perhaps one of the most colorful qualities of city politics is the notorious and chronic issue of civic corruption. It's a story that has defined eras of cities like Baltimore, New Orleans, Chicago, and Providence, and it can leave locals weary from national embarrassment and seeing history repeat itself.
Leading a wave of reform can be a tall order. First come the attempts to oust politicians and root out the sources of controversy in the first place. Then there's the murky work of overhauling city charters, rewriting ethics laws, launching probes, and challenging entrenched political traditions. "As long as you have human beings in government, you're not going to be able to root [corruption] out entirely," one political scientist tells CityLab. But voters and officials have certainly tried, and some have even gotten good results. Today on CityLab: The Art of Cleaning Up City Hall
---
More on CityLab
---
D'oh! Not Disturb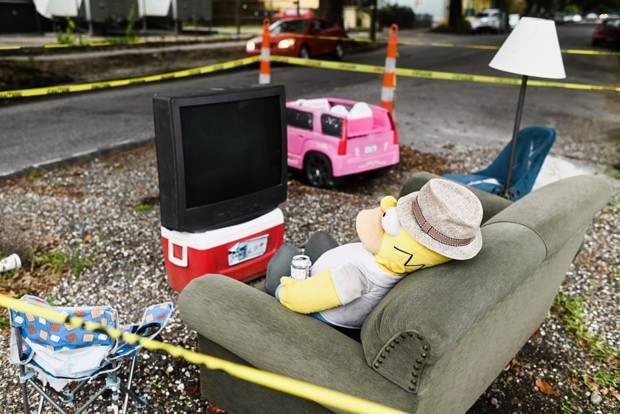 Tired of waiting for the city to fix their street, New Orleans residents furnished a pothole and offered it up for rent on Airbnb. The listing for "Homer's Hideout" boasted "open air living, with the comforts of rural camping—including a few early-morning yelps from local coyotes." The listing lasted for three weeks, until a crew of city workers finally showed up to fix the street. "This was just about being a squeaky wheel," the listing's creator said. CityLab's Laura Bliss has the story: Here's a Pothole Stunt for the Ages in New Orleans
---
What We're Reading
How climate change in Iowa is changing presidential politics (TIME)
PG&E agrees to pay $11 billion insurance settlement over California wildfires (NPR)
One in four of New York's new luxury apartments are unsold (New York Times)
Philly blesses worshipers with free parking, eliciting cyclists' Old Testament wrath (Philadelphia Inquirer)
The changing face of school integration (Washington Post)
---
Tell your friends about the CityLab Daily! Forward this newsletter to someone who loves cities and encourage them to subscribe. Send your own comments, feedback, and tips to hello@citylab.com.